The 26th of June started as a normal day at JUBI-Juist. All of the four aeroplanes were in flight, just as normal. Within 10 minutes all this would change. A violent storm came over the island. It Ripped through the town causing people to go inside. The wind speeds were between 55-60 knots (100-110 km/h). It was important to bring down the planes very quickly before it was too dangerous to fly, wind speeds were over 30 knots! Three of the four aeroplanes landed at the Juist airport. The final plane had to make an emergency landing at Emden.
The three aeroplanes had to be rescued by people, who held and secured the rudder and the wing tips. There were 10 people securing each plane to prevent it from lifting, as the wind speed was still too high (80 km/h is enough to lift one of the "Falcons").
In the evening when the storm was over, Baloo's phone rang: Baloo said: "Hello!?" the other person answered: "Hello, who is there?" Baloo:"Hello, who is THERE??", the other person answered: "It is the police!", Baloo: "Sure, and I am Santa Claus!", Police: "No, it is really the police.", Baloo: "Yes, and I'm really Santa Claus.", Police: "O.K., if you don't believe me you can call the police station at Norddeich, it is about your car."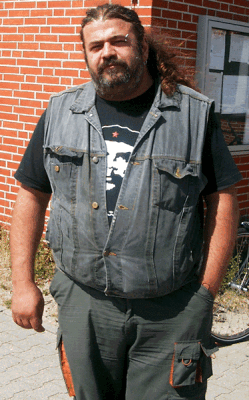 Baloo did not believe the other guy until he was phoned again by the police of Norddeich. They had no good news for him. At the airport of Norddeich the storm over turned one of the stationary planes. The plane overturned one and half times and then crashed onto the roof of a car. You can guess which car that was!? The car and the plane were written off.